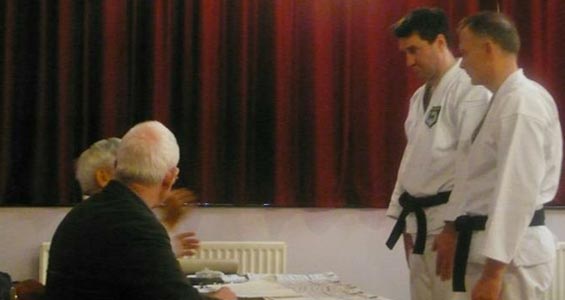 Everyone Welcome! Children must be 6 years old or more for Insurance cover.
Wadō-ryū (和道流?) is our karate style.
Ask about karate classes in Omagh, Dungannon »
Downloads PDF
Main Karate Instructors
Jimmy Hughes
Eugene Hamill
Robbie Brown
More info will appear here soon.
About
The Northern Ireland Association Karate-do Wado-kai comprises of Karate-ka from Omagh, Dungannon, and the surrounding areas Est 1978. It currently has Eight black belts: Senseis J. Hughes (3rd dan); E. Hamill (2nd dan); R. Brown (2nd dan); Michael Scullion(1st dan); J. McKeown (1st dan); E. McNamee (1st dan); M. Kelly (1st dan); M. Donnelly (1st dan). There is a mix of other grades in the club, from 1st Kyu to 9th kyu, as well as ungraded students.
To make a suggestion or send us info use the contact page form.