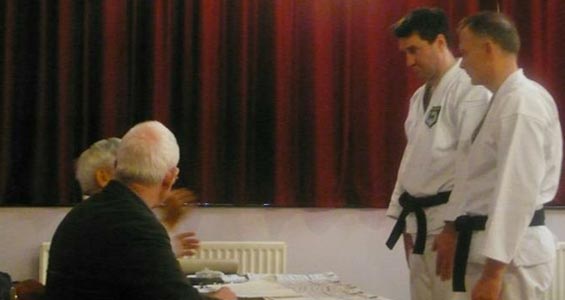 Everyone Welcome! Children must be 6 years old or more for Insurance cover.
Wadō-ryū (和道流?) is our karate style.
Ask about karate classes in Omagh, Dungannon »
Downloads PDF
Main Karate Instructors
Jimmy Hughes
Eugene Hamill
Robbie Brown
More info will appear here soon.
About
The Northern Ireland Association Karate-do Wado-kai comprises of Karate-ka from Omagh, Dungannon, and the surrounding areas Est 1978.
---
It currently has many black belts: Senseis Jimmy Hughes (6th dan); Eugene Hamill (3rd dan); Robbie Brown (2nd dan); J. McKeown (2nd dan).
Black belts with 1st dan listed below:
Michael Scullion, E. McNamee, M. Kelly, M. Donnelly, S. McCullagh, Mark Phillips, Michael Phillips, Daire O'Doherty, Art Dore, J. Curran, D. Mc Gee, G. McGee.
---
Other Notable students:
Sean Lavery, Martin Hughes, Brendan Hughes, Peter Doak, Aidan Hanna, Trevor Wilson, Colin Anderson, Martin Conway, Michael Dooey, Kevin Christie, Mark Golding, Lorna Mcswiggan, Lorna Irwin, Michelle Owens, Clare Keyes, Brian Birney, Lee Brown, Dermot Ross, Patrick Rush, Davey Brown, Darren Hagan and many more.
There is a mix of other grades in the club, from 1st Kyu to 9th kyu, as well as ungraded students.
To make a suggestion or send us info use the contact page form.